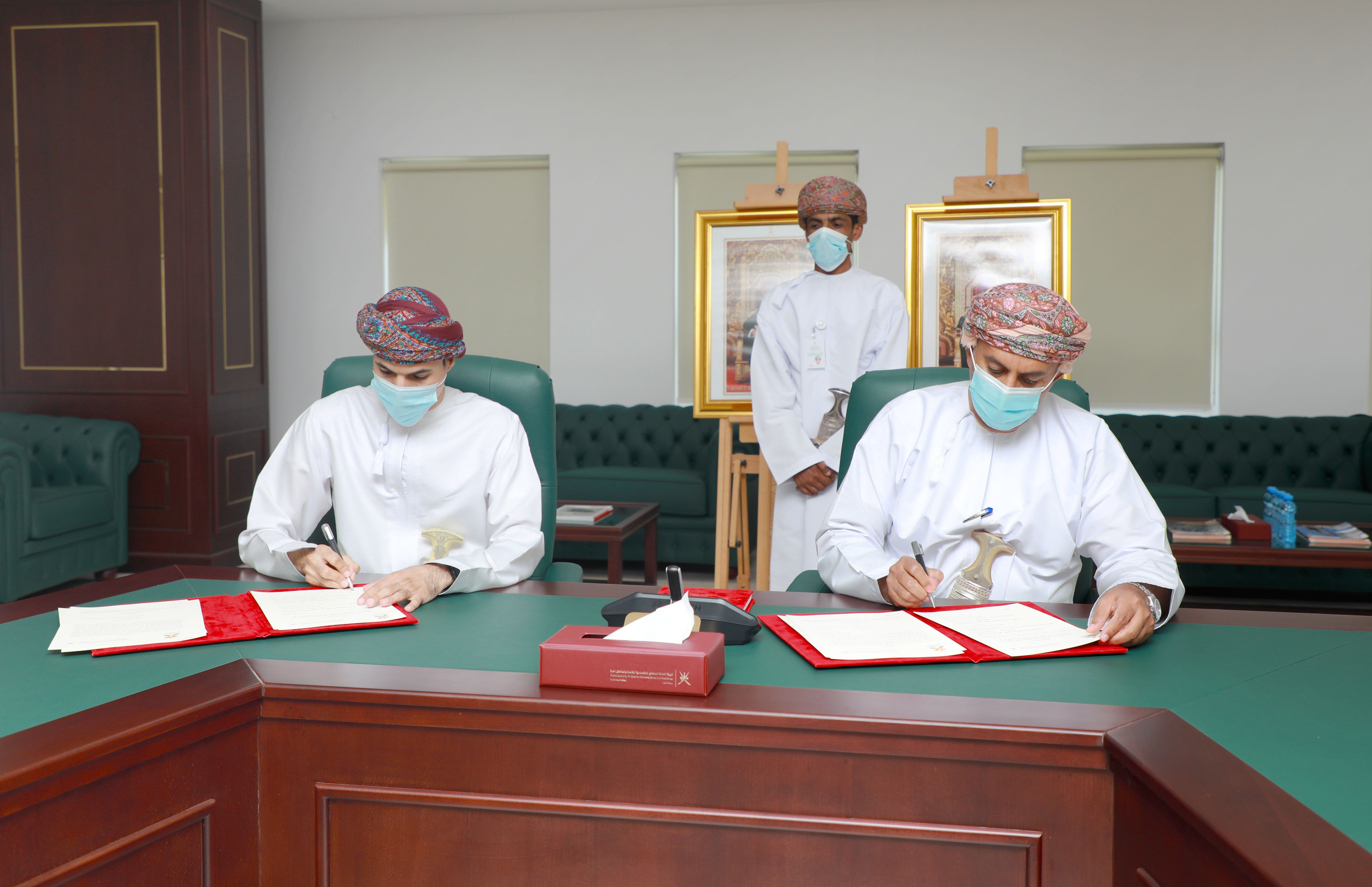 Muscat - 30 June, 2021
The Public Authority for Special Economic Zones and Free Zones (OPAZ) signed today a cooperation programme with Innovative Technology Company for Educational Solutions (Innotech), the first of its kind corporate, to form a collaboration between both parties to use 3D printing techniques in construction. Signing this cooperation comes in line with the decision of OPAZ Board of Directors, approving the use of modern building practices, including 3D printing techniques in the Special Economic Zone at Duqm (SEZAD) and the other free zones. As well, it reflects OPAZ support for the Omani companies specialised in this filed.
The pact was signed by HE Dr. Ali bin Masoud Al Sunaidy, Chairman of the Public Authority for Special Economic Zones and Free Zones (OPAZ) and Eng. Othman bin Maktoum Al Mandhari, CEO of Innotech Company.
The cooperation programme stipulates that the Company shares with OPAZ expertise and insights in construction with 3D printing techniques, which would provide a suitable and attractive environment for these projects in the Special Economic Zone at Duqm.
The programme allows OPAZ to establish projects using 3D printing techniques in the Special Economic Zone at Duqm for the Company as part of its efforts to support research and development while localising modern construction techniques in the zones, supervised by OPAZ, especially the Special Economic Zone at Duqm. Accordingly, Innotech Company shall comply with all HSE standards in the projects assigned to the Company by OPAZ.
Promoting innovation
Eng. Manal bint Humaid Al Abri, Senior Architect at the Public Authority for Special Economic Zones and Free Zones (OPAZ), pointed out that signing this cooperation programme, with this first of its kind company, comes within OPAZ efforts to support innovation, research and development in using modern technologies and 3D printing in construction. It also aims to localise these techniques in the special economic zones and free zones in particular and the local market in general. Further, bringing such techniques mirrors OPAZ objective to accelerate the pace of construction in the Special Economic Zone at Duqm as a first phase and other zones later on.
Speaking upon the signing ceremony, she confirmed, "OPAZ welcomes any initiatives from the private sector companies related to construction with 3D printing technology. The Board of Directors approved in its meeting last week to provide packages of facilities and incentives to companies that use 3D printing in construction, including exemption from rental fees for up to five years".
She pointed out that presenting these technologies to the Special Economic Zone at Duqm will contribute to building tourist and entertainment properties in the first phase of testing this new technology in different locations.
"The newly-introduced modern building techniques bring the artificial intelligence technology to construct buildings and establish engineering projects. These techniques include various spheres; using robots as 3D printers for buildings or other constructions, drones or reality simulation applications are to name a few. Such techniques aim as a whole to simplify the construction process, starting from the design phases and construction afterward, until operating and managing buildings, facilities or infrastructure networks. Most importantly, these techniques contribute to minimising the construction duration, reducing the total cost of projects and offering environment-friendly buildings," Eng. Manal Al Abri explained.
Attracting investors
Innotech is the first Omani company specialised in modern manufacturing technologies and 3D printing. Eng. Othman bin Maktoum Al Mandhari, CEO of Innotech Company, commented, "This cooperation programme with OPAZ paves the way for the Company to use 3D printing building technology in the special economic zones and free zones. Similarly, it brings opportunities for the Company to expand its services by implementing 3D printing in architecture and construction sector".
"OPAZ decision to promote construction by using modern techniques including 3D printing will contribute to motivating investors to adopt this technology. In this regard, the Company will study the development of a number of projects with this technology in the Special Economic Zone at Duqm particularly," Al Mandhari explained.
Established in 2012 by a group of Omani engineers, Innotech Company is specialised in various fields of 3D printing, including education, medicine, architecture, engineering and others. "The Company, which records a 100% Omanisation, has contributed over the past three years, in cooperation with Petroleum Development Oman and Galfar Engineering and Contracting, to develop this technology locally, striving to meet the needs of the Omani market. Innotech had earlier developed many projects using 3D printing technology for the public, private and military sectors, in addition to individual projects. However, this is the first experience for the Company to implement this technology in construction," Eng. Othman bin Maktoum Al Mandhari stated.
Al Mandhari expressed his pride for the Company stands among the first companies in the Sultanate to use the 3D printing technology in construction. He remarked that the Company is currently working on developing several small buildings using this technology, of which details will be announced soon.